We will be taking part in #GinADayMay 2021, the brainchild of Sarah (@Gin_A_Ding_Ding). This challenge involves posting every day in May, each day on a different gin related theme. It's great fun and brings together the gin community, so we encourage you to get involved.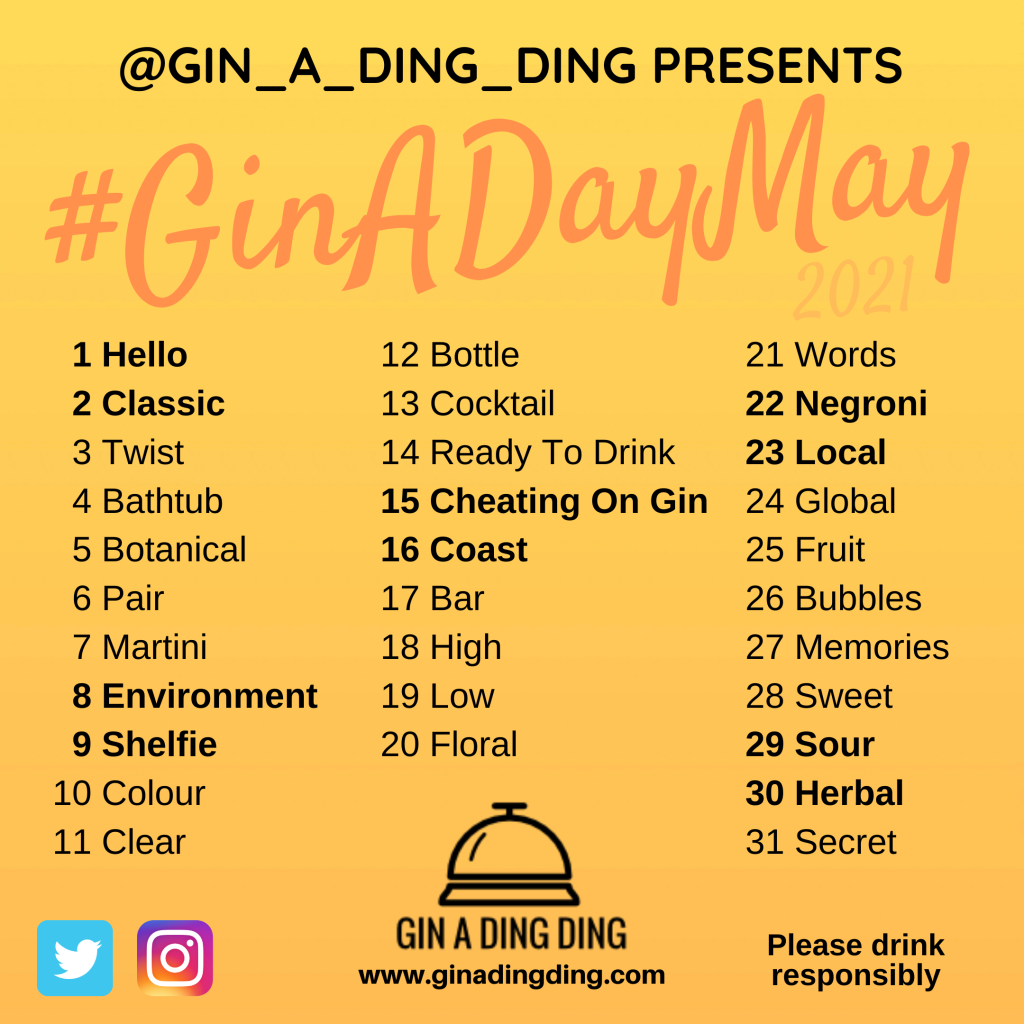 For those of you that have recently started following us, here's a recap of our journey so far as we enter into our 4th year.
Biggar Gin was born from a late night conversation over a number of Scottish gins in October 2016 while we were on a family holiday to Arran.   We loved the range and expression of new Scottish gins; we also love high quality spirits. We wanted to explore whether we could create something that was top quality and reflected our locality. In 2018 we launched our Original Recipe London Dry Gin. Thankfully our hero product was well received and within a few short months we received recognition when we won the London Dry Gin category of The Gin Guide Awards.
Biggar Mentality.
Our brand strap line is "Small batch gin, Biggar Mentality" and you'll often hear us mention Biggar Mentality. A sense of place is key to our gins.  All our gins feature local botanicals and flavours.  We also wanted to reflect the character and ethos of our town in our gin though.  It's a town that values history and tradition but likes to be innovative; it's a town that values its independent businesses and above all although it's small it punches above its weight.  We have tried to bring all of these values to our approach.
The introduction of our Clyde Valley Plum Recipe.
Each year we produce a limited batch of Clyde Valley Plum Recipe Gin. We had been wanting to develop a fruit infused Biggar Gin to join our award winning London Dry gin but we wanted to keep things as local as possible.  We had a hunch that our beloved Clyde Valley plums would marry beautifully with Biggar Gin.  And so the job of developing a new recipe began… There is nothing wrong with a gin liqueur but we very much wanted this to be a gin.  We also wanted to preserve the lightness and delicacy of the flavour of the plums and didn't want to add any additional flavours or sugar. It makes a delightful sipping gin over ice.  But we think it really comes to life with a mixer opening up the flavour.   With tonic it makes a dry but fruity long drink though our favourite is to pair it with a good quality ginger ale, the ginger pairing very well with the plum notes.
The addition of Biggar Strength.
A good quality Navy strength has always been part of the vision.  We and so many of our customers love what a good navy can bring to classic cocktails.  We are really pleased with the Biggar Strength.  Finalising it and launching it during full lock-down was somewhat challenging and we couldn't do all the tastings and other things we would normally do to support a new gin however we were blown away with the feedback and reviews we received.  The first batch sold out very quickly indeed and we were soon taking pre-orders on the next batch.
The year of the pandemic.
What a year it has been. We continue to fulfil online orders safely. We want to say a heartfelt thank you to those of you who have purchased online from us - don't forget to tag us as you enjoy your perfect serves! Hand sanitiser has never served its purpose more than recently and we paid for the production of the germ killer for distribution in and around Biggar to help keep keyworkers safe. We also donated 5% of online sales last summer to Clydesdale Food Bank as the food bank entered what has no doubt been one of their busiest years.
The Distillery.
During the past year we have been busy building our new distillery. The distillery is situated within the existing grounds at BGHQ and it fits beautifully into the landscape.   It is surrounded by the botanicals we grow on the three acre site: rowan, hawthorn, rose hip and nettles.  It's not huge but we think it shouts out Biggar Mentality! We can't wait to tell you more about it over the coming days, weeks and months.
The Future.
We have lots of exciting plans and additions to our product range and we look forward to sharing these with you in the not too distant future.  With any luck we will be attending events soon when it is safe to do so. We hope to see some of you in person whenever possible.