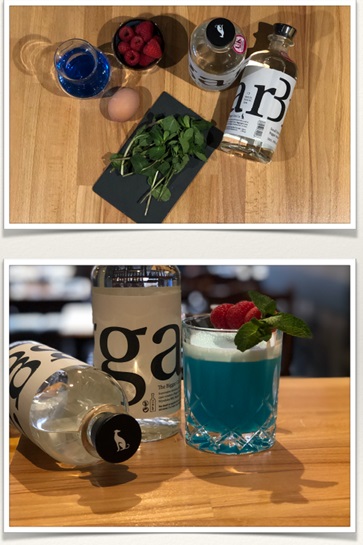 60ml Biggar Gin
40ml Briottet Curaçao Bleu
25ml Briottet Triple Sec
1 Egg White
Squeezed juice of half a Fresh Lime
Add a decent scoop of ice into a cocktail shaker.
Combine above ingredients and shake vigorously for approximately 15 seconds.
Using a Hawthorn strainer and a second small sieve, fine strain the mix into a tumbler glass or a coupe glass for best results.
Take the head of a sprig of mint and 3 raspberries to garnish.
(This recipe can also easily be made into a long drink by adding lemonade into a highball glass. If doing so there is no need to double strain.)
Designed by David Lapsley, Sommelier Patron at Etive Restaurant in Oban.