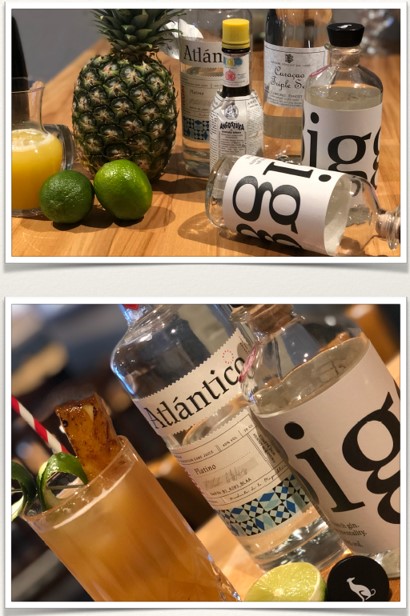 30ml Biggar Gin
20ml Atlanticio Platino White Rum
15ml Briottet Triple sec
125ml Pineapple Juice
Juice squeezed from half a lime
Angostura Bitters
Pineapple and Lime
Add a decent scoop of ice into a cocktail shaker.
Combine above ingredients and shake vigorously.
Shake for approximately 15 seconds.
Take a highball glass and hand pick 6/7 good ice cubes, dress the ice with 1/2 dashes of Angostura bitters and fine pour the shaken mix.
To garnish use 2 lime peels and caramelised pineapple.
To make the pineapple garnish, cut a generous slice of pineapple and sprinkle brown sugar, put in a hot pan with a small amount of oil, sugar side down and sprinkle brown sugar on the top side, leave for 2-3 minutes and then turn, again 2-3 minutes or until both sides have a good colour to them. Allow to cool and cut however you like to serve.
Designed by David Lapsley, Sommelier Patron at Etive Restaurant in Oban.